What it is
Turn your tedious $3/document process into an automated, two-click, pennies-per-document job!
[ Videos: See it in action now >> ]
When you print your critical accounting documents to the PDFBlaster printer driver (just like any other Windows printer), PDFBlaster automatically creates individual PDF files, pre-addresses them with the recipient data stored in your accounting system, and then delivers the documents as either an ACTIONdocs email or Internet Fax - without ever going to your hard copy printer or fax machine! With a few mouse clicks, you can digitally deliver virtually thousands of documents in minutes, not hours, without the high costs associated with hard-copy document processing, consumables and postage.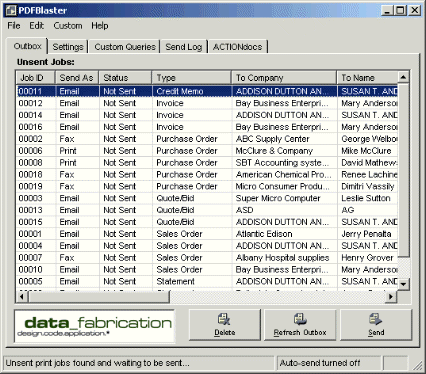 Why PDFBlaster?
Cost-effective. PDFBlaster can be thousands of dollars less than a typical dedicated fax server, fax board and software. As well, we've revolutionized the way accounting documents are sent via email. See our ACTIONdocs site for more information.
Easy to install. PDFBlaster uses your existing internet connection - not modems, fax boards, dedicated servers and phone lines. In fact, no additional hardware, software or integration work is necessary. Just install, point to your accounting system, and start sending.
Responsive. PDFBlaster links to an international telecommunications network that is outfitted with thousands of available send lines at your disposal. Thus, processing hundreds of outbound faxes with PDFBlaster takes minutes -- not hours -with each of your customers and suppliers receiving their faxes almost immediately, regardless of where their fax job is in the batch queue. And, better yet, you're free to get back to more important things - like growing your business.
Smart. PDFBlaster utilizes our own SmartFind™ technology to handle the arduous task of pre-addressing each accounting document for you. No more typing names, email addresses or fax numbers!
Convenient. Digital delivery of your mission critical accounting documents is as easy as printing to the PDFBlaster printer. PDFBlaster supports individual, auto and batch-mode printing of AR invoices, AR credit memos, AR customer statements, OE orders, OE Acknowledgements, OE bids and quotes, OE pick tickets, PO purchase orders and more. If your users know how to print these documents to a regular hard copy printer, then they already know how to use PDFBlaster.
Friendly. PDFBlaster is completely standalone software that does not require any code changes or specific accounting system versions in order to work with your current accounting package. If you have modified or customized your current system, PDFBlaster will not interfere with your modification investment in any way.

Free: PDFBlaster Lite


Start using PDFBlaster Lite now for free!
[ Download Now >> ]





Copyright © 1997-2023, Data Fabrication, Inc.. All Rights Reserved.
Fax From Accounting | Site Map | Privacy | Legal | Contact Us