Benefits to Your Business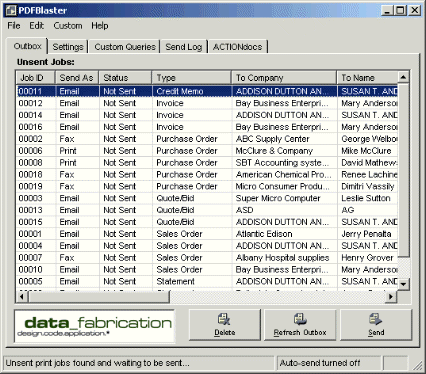 Immediate payback: With no up front additional hardware, software or integration costs, you can start saving money with PDFBlaster in 15 minutes.

Reduce collections days: Companies often pay only when they repeatedly receive statements or reminder letters. By using PDFBlaster, statements, reminder letters and invoice reprints can be faxed or emailed to some or all of your customers in seconds.

Reduce paper costs: Faxing and emailing documents using PDFBlaster eliminates the need to print documents onto expensive pre-printed forms. You'll also save on costly consumables such as toner and color printer ink.

Reduce handling and postage costs: Printing, handling and applying postage to documents such as Invoices, statements, purchase orders etc. can cost as much as $3 each when you factor in the postage, stationary and labor costs. It only costs 10 cents per page to fax with PDFBlaster.

Increase sales: Easily fax or email quotations, pro-forma invoices and acknowledgements to customers when they're most likely to buy from you!


Copyright © 1997-2023, Data Fabrication, Inc.. All Rights Reserved.
Fax From Accounting | Site Map | Privacy | Legal | Contact Us