Support for PDFBlaster


PDFBlaster Word Blasts: Step 7 / 11
[ < previous ] [ next > ]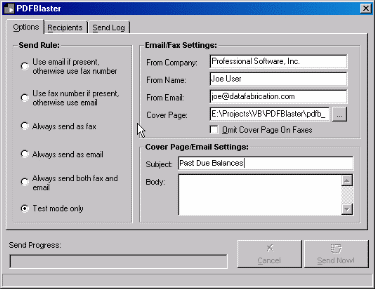 The PDFBlaster toolbar will display a form with 3 tabs. The first tab lets you define your send rule, email/fax settings (along with a cover page option) as well as the subject and body of the fax cover page or email.
The settings here are similar to those found in the PDFBlaster Control panel.
Type the words "Past Due Balances" in the subject field.


[ < previous ] [ next > ]
[ << back to help contents ]


Copyright © 1997-2018, Data Fabrication, Inc.. All Rights Reserved.
Fax From Accounting | Site Map | Privacy | Legal | Contact Us