Support for PDFBlaster


How PDFBlaster Prints Various Documents: Step 6 / 12
[ < previous ] [ next > ]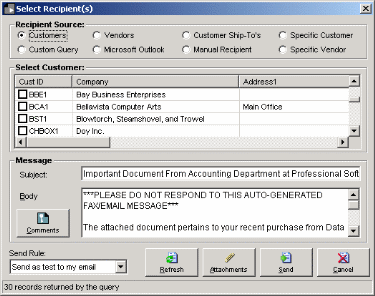 Now things are a little different than before. Since this is a "custom" print job PDFBlaster needs to know the data source you want to use in order to send the document.
Notice that your options are:
1. Customers
2. Customer Ship-To's
3. Vendors
4. Manual Recipient
5. Custom Query
When you click on the "Customers" Source you will see a list of customers pulled from your accounting system.


[ < previous ] [ next > ]
[ << back to help contents ]


Copyright © 1997-2018, Data Fabrication, Inc.. All Rights Reserved.
Fax From Accounting | Site Map | Privacy | Legal | Contact Us