Support for PDFBlaster


How PDFBlaster Prints Various Documents: Step 9 / 12
[ < previous ] [ next > ]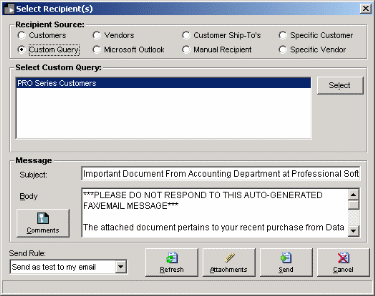 Now click on "Custom Query" to see a list of your defined custom queries. Custom queries are pre-defined data sets, based on your accounting database, that allow you to group together and select a specific subset of recipients from your database using data stored in specific fields. In this example, we've set up a custom query for "PRO Series Customers", which is a list of every customer in our accounting system.
Click on the "PRO Series Customers" custom query and click the "Select" button to retrieve the recordset.


[ < previous ] [ next > ]
[ << back to help contents ]


Copyright © 1997-2018, Data Fabrication, Inc.. All Rights Reserved.
Fax From Accounting | Site Map | Privacy | Legal | Contact Us