Support for PDFBlaster


Printing To PDFBlaster From Exact Progression Series: Step 1 / 6
[ < previous ] [ next > ]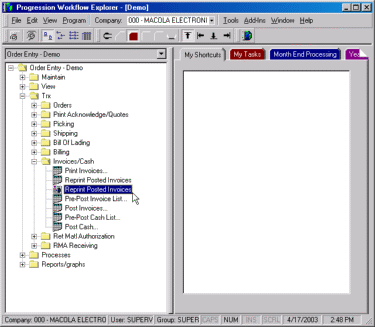 PDFBlaster can easily fax or email documents created from inside Macola Progression Series. Please note that the default Purchase Order forms that ship with Macola do not include the vendor ID field. This field is necessary for PDFBlaster SmartFind to work. You may need to add this field to your PO forms manually.
For this example, we are going to Reprint posted invoices using the Crystal Reports form. Click on Order Entry -> Trx -> Invoices/Cash and then select the "Reprint Posted Invoices" Crystal Reports version menu link.
(Make sure the PDFBlaster Control Panel is running in the system tray before continuing).


[ < previous ] [ next > ]
[ << back to help contents ]


Copyright © 1997-2023, Data Fabrication, Inc.. All Rights Reserved.
Fax From Accounting | Site Map | Privacy | Legal | Contact Us