Support for PDFBlaster


How To Transfer License Activations Between Computers: Step 4 / 4
[ < previous ] [ next > ]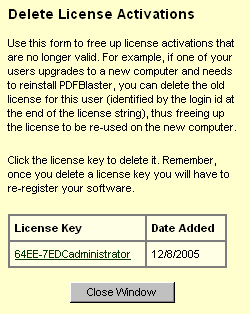 In the small window that pops up after clicking this button you will see a list of license keys that are in use for the current company. To delete an existing license key, click the license key link.
When a license key is deleted, it will be freed up for use on another workstation when you install PDFBlaster.
When finished, click the [Close Window].


[ < previous ] [ next > ]
[ << back to help contents ]


Copyright © 1997-2018, Data Fabrication, Inc.. All Rights Reserved.
Fax From Accounting | Site Map | Privacy | Legal | Contact Us