Support for PDFBlaster


Linking an Excel Spreadsheet To PDFBlaster: Step 1 / 10
[ < previous ] [ next > ]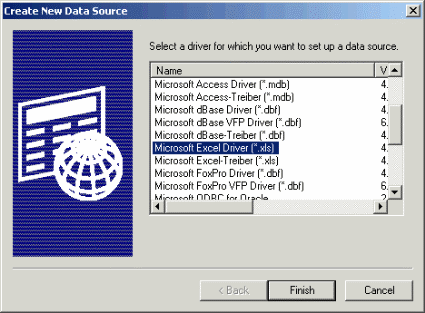 You can easily link excel spreadsheets to PDFBlaster via the "custom query" option and then use the custom query as an address book from within PDFBlaster.
This support topic assumes you are familiar with the basics of creating an ODBC data source and basic SQL syntax. If you need more information on these pre-requisites, click the following link:
http://www.microsoft.com/technet/scriptcenter/resources/officetips/jun05/tips0607.mspx
The first step is to create a new ODBC Excel data source. To do this, click: start -> control panel -> administrative tools -> odbc data sources.
Then, click the System tab and click the "Add" button.
Scroll down your list of available drivers and select the Microsoft Excel Driver as shown above.


[ < previous ] [ next > ]
[ << back to help contents ]


Copyright © 1997-2023, Data Fabrication, Inc.. All Rights Reserved.
Fax From Accounting | Site Map | Privacy | Legal | Contact Us