Support for PDFBlaster


Changing Default PDF File Names In PDFBlaster: Step 1 / 1
[ < previous ] [ next > ]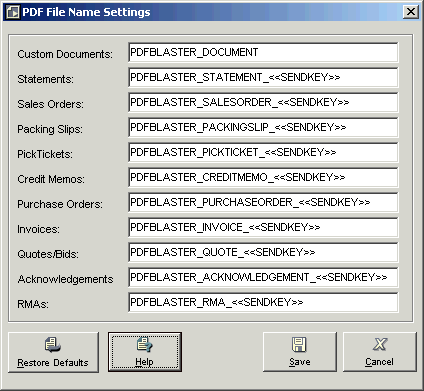 You can change the default file naming convention PDFBlaster uses for naming PDF files that are attached to emails from the PDF File Name Settings Screen.
The variables you can use in the file name construct are:
SENDKEY - Customer Number or Vendor Number
DATE - Today's Date
DOCNUM - Document number
FROMCOMPANY - Your company name

Wrap each variable with a << and close each variable with >>. DO NOT INCLUDE THE .PDF extension when changing or saving file masks. This will be done automatically.


[ < previous ] [ next > ]
[ << back to help contents ]


Copyright © 1997-2023, Data Fabrication, Inc.. All Rights Reserved.
Fax From Accounting | Site Map | Privacy | Legal | Contact Us