Support for PDFBlaster


Configuring The PDFBlaster Control: Step 4 / 4
[ < previous ] [ next > ]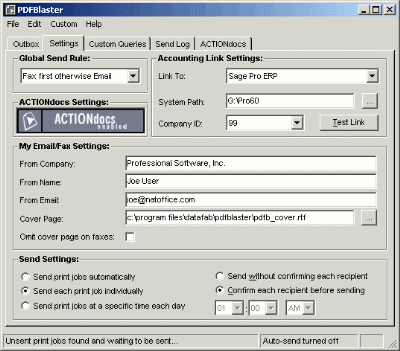 SmartFind Options
PDFBlaster has a number of convenient send options that allow you to control how the software will process your print jobs.
Send print jobs automatically as they are received
Select this option to have PDFBlaster automatically process your print jobs as they are sent to the outbox by the Control Panel. Automatic sends work only with supported PDFBlaster accounting documents. Custom jobs or reports will remain in the outbox until you send them manually.
Send Each Job Individually
Select this option to have your print jobs queued into your Outbox where they will wait until you select a job and click the "Send Now" button.
Use Default Recipient Data Select this option to tell PDFBlaster to use the recipient data derived from the linked customer or vendor file of your linked accounting system.
Confirm Each Job Select this option to display a confirmation dialog that displays the recipient information, subject and body of the email or fax as well as additional CC options. You can override the default recipient data pulled from your linked accounting system from this screen. Please note, this option is not available if you select the [Unattended Send] mode.


[ < previous ] [ next > ]
[ << back to help contents ]


Copyright © 1997-2018, Data Fabrication, Inc.. All Rights Reserved.
Fax From Accounting | Site Map | Privacy | Legal | Contact Us