Support for PDFBlaster


Configuring The PDFBlaster Control: Step 3 / 4
[ < previous ] [ next > ]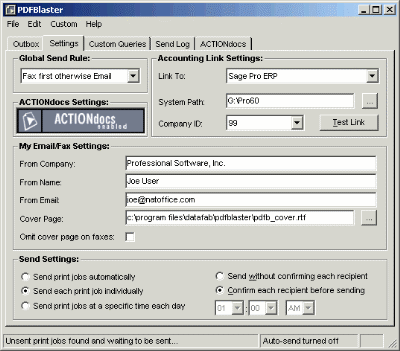 Email/Fax Settings
These options will be used by PDFBlaster when delivering your documents and returning un-deliverable documents to you.
From Name
Enter your name in this field. This value will appear in the "From" part of your emails and fax cover sheets
From Email
Enter your email address in this field. This value will appear in the "From Email" part and is not used during fax transmissions.
Cover Page
By default, PDFBlaster ships with a basic cover page in RTF format that you can use with your faxes. Cover pages are not sent with email jobs.
You can edit the cover page look and feel using a standard word processing program such as Microsoft Word. Just be sure to make a backup copy first!
Omit Cover Page On Faxes
Check this box to exclude cover pages with your fax jobs.
Please note: it is extremely important that you enter a valid email address in the From Email field. Otherwise, Test Mode document deliveries and any un-deliverable documents and send confirmations will not be returned to you correctly.


[ < previous ] [ next > ]
[ << back to help contents ]


Copyright © 1997-2020, Data Fabrication, Inc.. All Rights Reserved.
Fax From Accounting | Site Map | Privacy | Legal | Contact Us