Support for PDFBlaster


Printing To PDFBlaster From Exact Progression Series: Step 5 / 6
[ < previous ] [ next > ]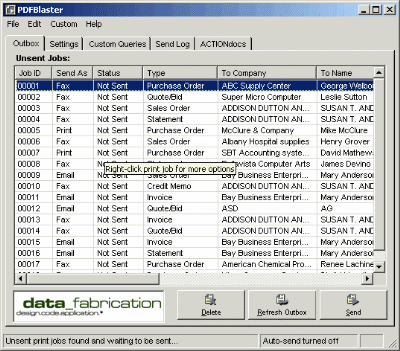 The print jobs will be sent to the PDFBlaster outbox and will remain there until you are ready to send them out.
If you've configured PDFBlaster to pop up when it receives new print jobs, the above screen will be displayed automatically. Otherwise, double-click on the small PDFBlaster icon in the system tray to activate the PDFBlaster Control Panel.
At this point you're ready to send the print jobs according to your send rule. You double-click on a specific job and, if you've set up PDFBlaster to "Confirm Each Job" you'll get to verify the send data (see the next screen).


[ < previous ] [ next > ]
[ << back to help contents ]


Copyright © 1997-2018, Data Fabrication, Inc.. All Rights Reserved.
Fax From Accounting | Site Map | Privacy | Legal | Contact Us