Support for PDFBlaster


Linking an Excel Spreadsheet To PDFBlaster: Step 9 / 10
[ < previous ] [ next > ]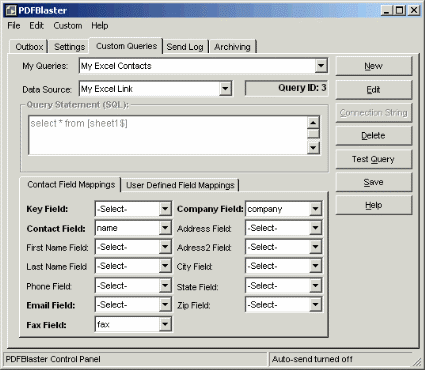 The last step is to "map" the columns from our excel spreadsheet data to their PDFBlaster counterparts. In our example, since we're only concerned with the name, fax and company columns we'll map them to their existing PDFBlaster counterparts as shown above.
After you map your fields, click the Save button to save your custom query. You can now use this data source as an address book when sending emails or faxes via PDFBlaster.


[ < previous ] [ next > ]
[ << back to help contents ]


Copyright © 1997-2018, Data Fabrication, Inc.. All Rights Reserved.
Fax From Accounting | Site Map | Privacy | Legal | Contact Us