Support for PDFBlaster


Linking an Excel Spreadsheet To PDFBlaster: Step 10 / 10
[ < previous ] [ next > ]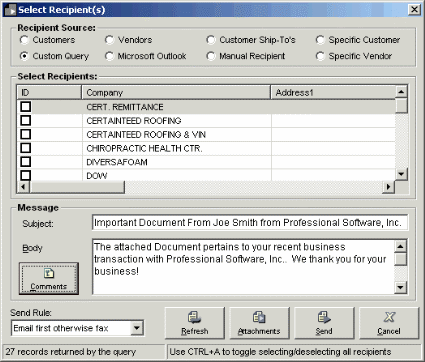 As you can see above, Joe printed a document to PDFBlaster then clicked the Send button. The following screen was displayed. Joe selected Custom Query and then clicked the My Excel Contacts custom query, which retrieved the data as an address book.
Joe can now check off which recipients he wants to send to and click the Send button to fax his document to all the selected recipients.


[ < previous ] [ next > ]
[ << back to help contents ]


Copyright © 1997-2018, Data Fabrication, Inc.. All Rights Reserved.
Fax From Accounting | Site Map | Privacy | Legal | Contact Us